Domain name registration
Email address
Custom designed (no templates)
Compatible with all devices
Basic SEO (how you are found on Google)
Submitted to Google, Bing, Yahoo
Contact us page
Google map
12 months' hosting* ($99 per year after first year)
SSL Certificate
No charge for basic amendments once website is live
*Minimum hosting two years paid yearly. Domain transfer request before second year's hosting is paid will still incur the $99 fee.
One month's notice of intention to transfer domain or stop website hosting must be given if domain registration or hosting fee is due otherwise invoice will be issued.
WHY YOUR BUSINESS NEEDS A WEBSITE: -
"If your business is not on the Internet, then your business will be out of business." Bill Gates
•

Whatever business you run, people want to know who you are and how good a job you will do. If I was looking for a painter, I would only contact businesses that had a website. I would want to see the quality of their work as well as read testimonials from their customers.

• An email address ending in bigpond, outlook, msn, etc. does not look professional. They are personal email accounts. Your new email would be info@yourbusinessname.com.au giving your business a more professional look.
•
A website will bring you work and with the basic SEO (Search Engine Optimisation) I do on your website which is included in the price, you should be able to be found on Google. The days of letterbox flyers are over. The Internet is the future.
FIVE MORE REASONS WHY YOU NEED A WEBSITE: -
• 80% of people are now looking online for services. If you're not online, you will not be found.
• You only have to pay for a website once. Unlike print which can be a huge on-going cost, you only pay once to build your website and a low yearly fee for your website to be hosted on the Internet.
• People trust the information they find on the Internet more than any other form of advertising. You can build trust with your potential customers by sharing galleries, testimonials and customer reviews.
• Having your own website and custom email addresses makes your business look modern and professional. They brand your business and increase its visibility amongst your customers.
• You're losing business without one. It's very likely your competitors already have their own websites and are finding new customers that you don't have access to.
Yes, you can spend time and create your own website or use website builders but that can be very time consuming so why not leave your website building to
an expert.
You will get a great looking website, a fully maintained website.
BE ONLINE IN LESS THAN TWO WEEKS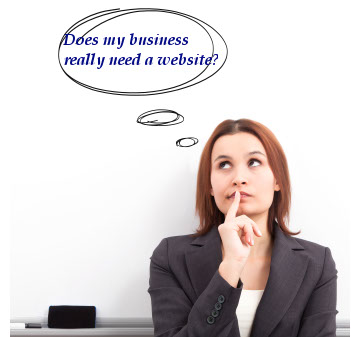 FOUR REASONS WHY YOUR BUSINESS DOESN'T NEED A WEBSITE: -
• You're a spy agency and don't want to be found
• You have too many customers
• You're making too much money
• Your primary customers are The Flintstones
WHY CHOOSE BALZART GRAPHICS TO BUILD YOUR WEBSITE: -
•

You won't get a better price than $395 plus GST to get a quality website
•

Sure, there are plenty of places you can build your own website for free but who has the time?

You tell us what you want and we will build your website for you. Not sure what you want in a website?
No problem. We will design a website for you then you tell us what you like or don't like before the
website goes live. It's never been easier to get a great website at a very affordable price.
DON'T PUT OFF GETTING A WEBSITE ANY LONGER.
TAKE ADVANTAGE OF THIS GREAT LIMITED OFFER